Melissa Helser
Revival's in the Air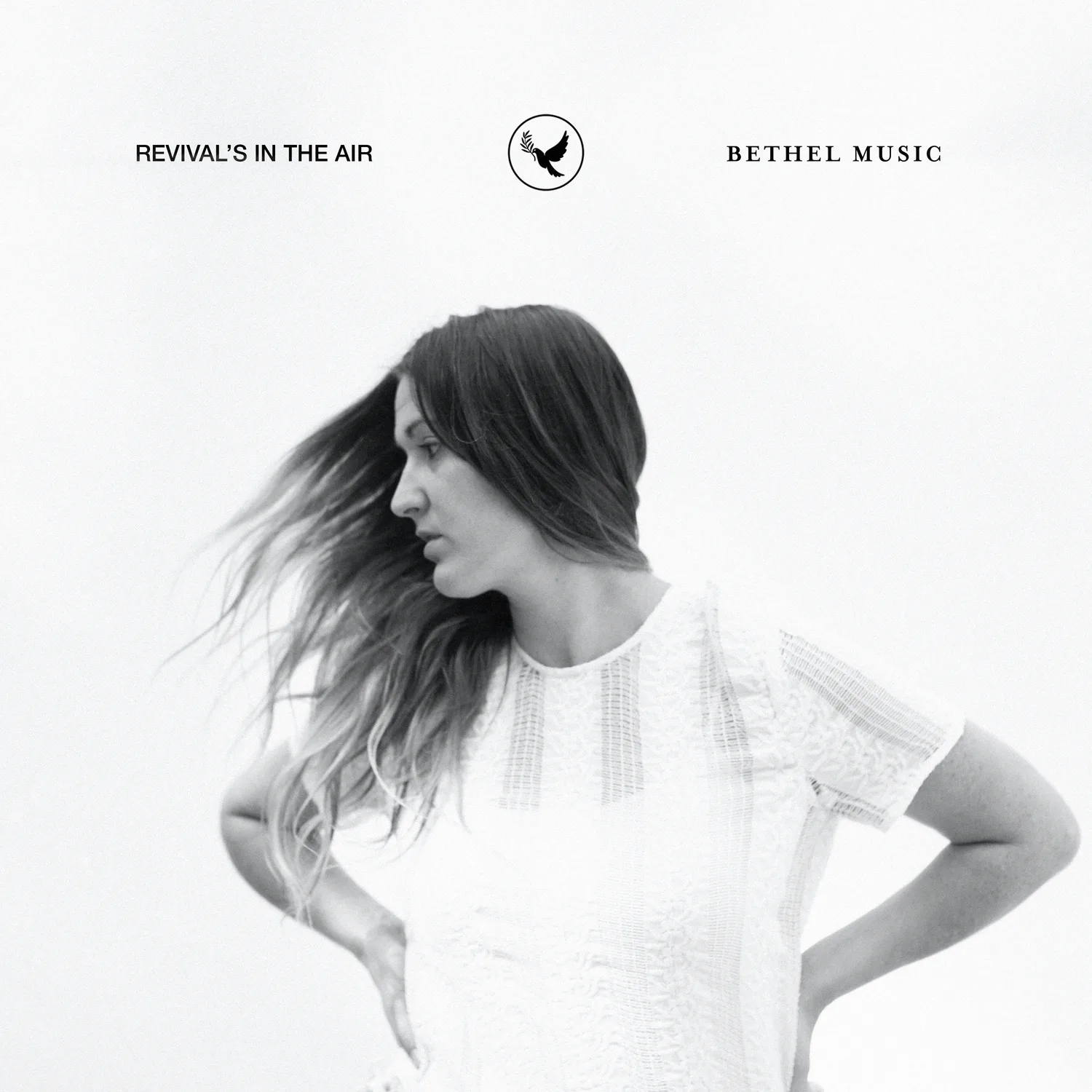 Play
#37
Christian Airplay (Billboard)
1.2M
YouTube Views (Live Version)
2.1M
Spotify Streams (Album Version)
The following assets can be used freely by your Radio Station to promote this song and artist.
Revival's in the Air
"Revival's In The Air" is an invitation for listeners to lift their eyes with hearts wide open and watch God transform their families, cities and nations. He's moving on the wind. Can you see it? Can you feel it? Revival's in the air.
He's moving on the wind. Can you see it? Can you feel it? Revival's in the air.
Melissa Helser
Melissa Helser is a songwriter, worship leader and founder of discipleship school, The 18 inch Journey, located in North Carolina where she also leads Cageless Birds, a collective of artists, with her husband Jonathan. Melissa and Jonathan have been a part of the Bethel Music Collective since 2014, bringing with them a rich history of passionate worship. The Helser's are known for their hit songs "Raise A Hallelujah", featured on Bethel Music's VICTORY (2019) album and "No Longer Slaves", appearing on Bethel Music's We Will Not Be Shaken (2015). The Helsers live with their two beautiful children in Sophia, North Carolina, where they spend time crafting songs, art, and goods that encourage others into wholeness and freedom as children of God.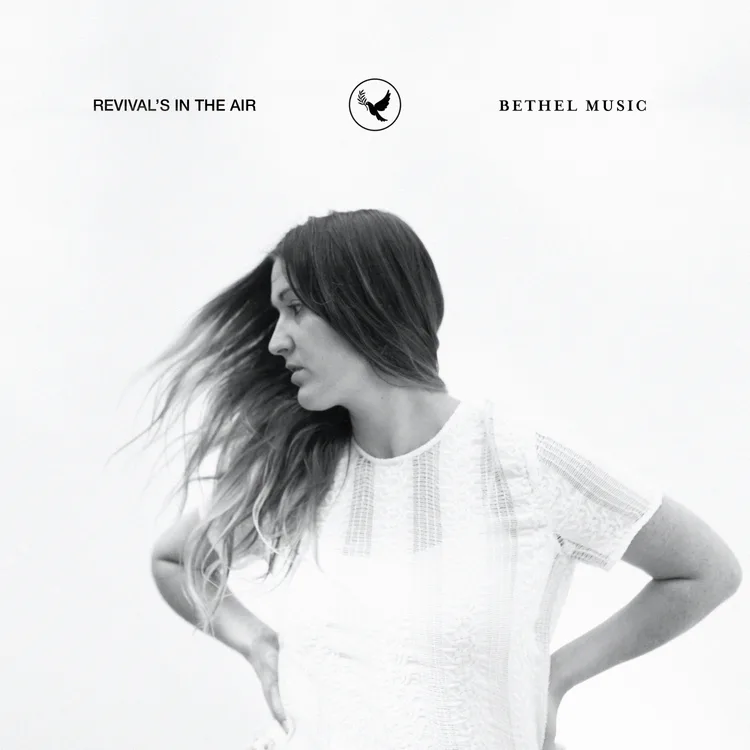 Verse 1
I can feel redemption on the wind
Forgiveness like the tide rolling in
Taking up the space where shame has lived
Receiving all that You died to give
Chorus
Let the wind blow, let the tide roll
Till the earth knows, You're a God of Love
Let my dry bones sing a new song
All the glory to the God of Love
Verse 2
I can see a valley of dry bones
Rattling, moving bone to bone
You breathe the breath of life into our lungs
Marching on our knees we march to love
Bridge
Revival's in the air
Catch it if you can
He's moving on the wind
The dawn is breaking
Lift your eyes to see
He's better than you dreamed
Everything you lost
Love's returning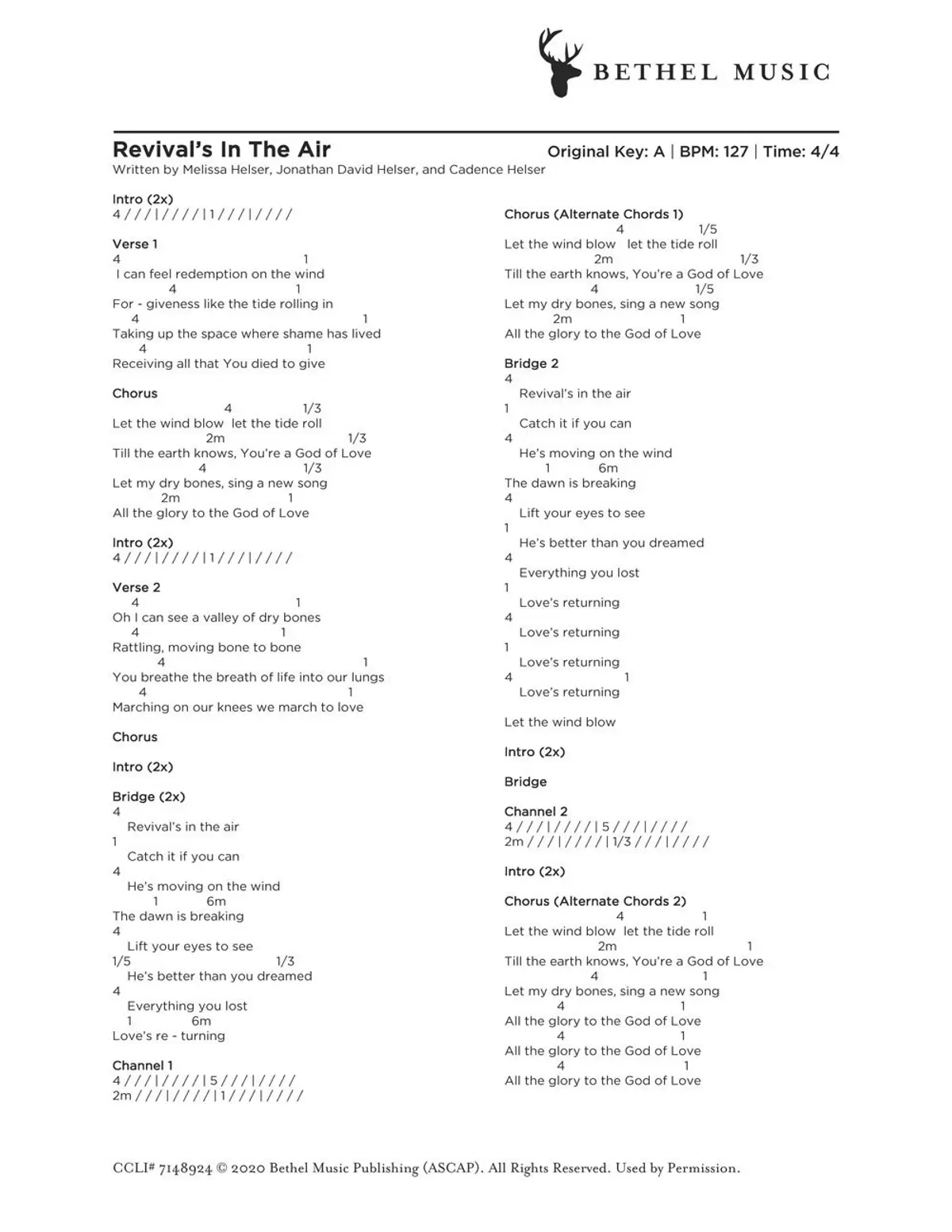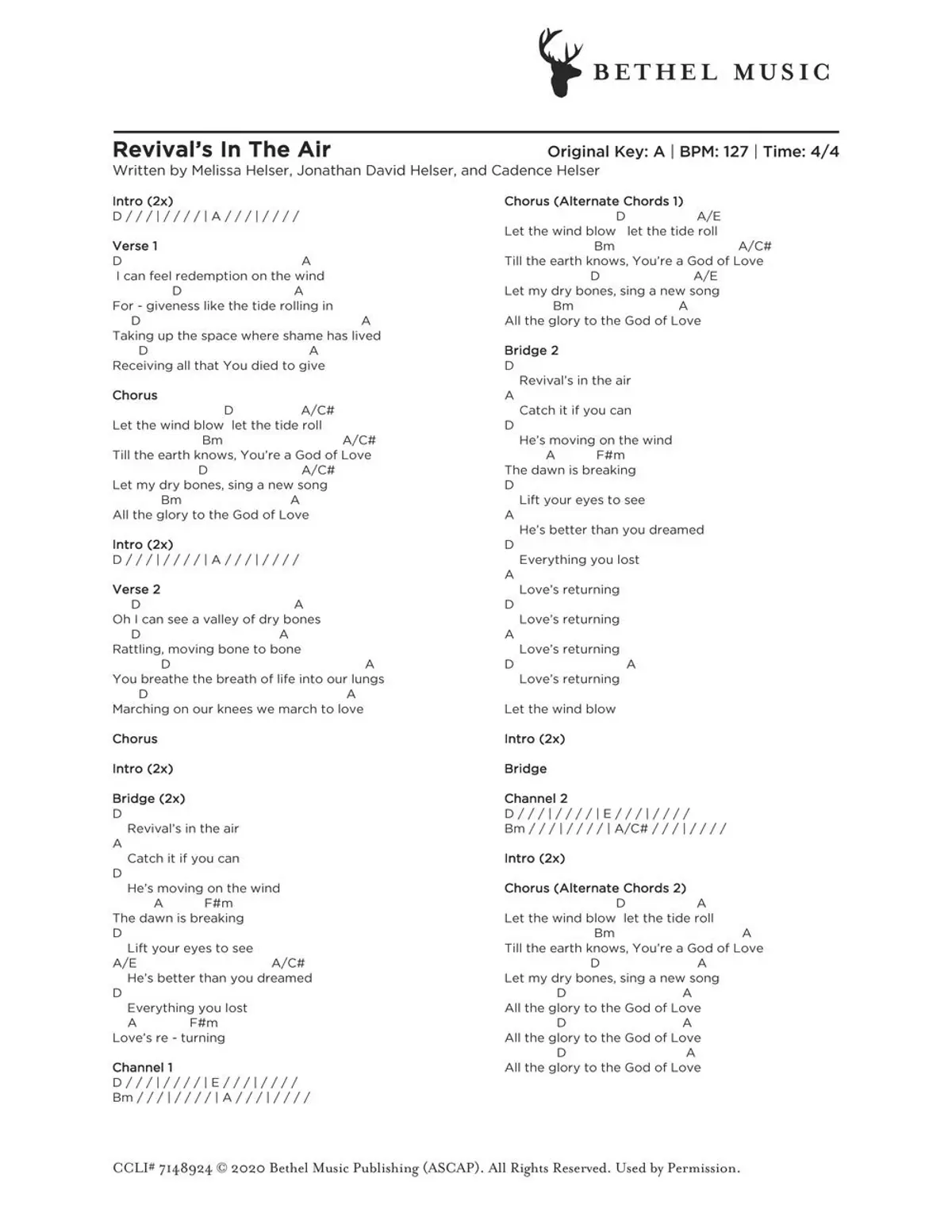 ---
Melissa Helser - Revival's in the Air - Single
---
© 2020 Bethel Music Publishing (ASCAP). All Rights Reserved. Used by Permission.
---
CCLI# 7148924
Written by Melissa Helser, Jonathan David Helser, Cadence Helser